Print Recipe
Guacamole Focaccia Squares
Prep Time

15 min

Difficulty

More Difficult

For a quick, easy and irresistible appetizer, focaccia is always in fashion. This new spin on the old world favorite features flat crescent rolls baked golden brown, topped with a delicious cream cheese and Yucatan Guacamole spread, and sprinkled with savory bits of bacon, diced plum tomato, Feta cheese, and sliced olives.

Ingredients:

1 16 ounce container Yucatan Spicy Guacamole

2 tubes (eight ounces each) refrigerated crescent rolls

12 ounces sliced bacon, diced or 3.5 ounce package (about 15 slices) fully cooked bacon

4 ounces whipped cream cheese, softened

4 ounces feta cheese, crumbled

3 plum tomatoes, small diced

1 small can sliced ripe olives, drained

Directions

Preheat oven to 375 degrees F.
Unroll both tubes of crescent dough and pat into an ungreased 15x10x1 inch jelly roll pan; sealing seams and perforations and building up edges.
Using a fork prick the dough all over. Bake for 10 to 12 minutes until golden brown. Cool completely on wire rack.
In a large skillet cook bacon (or reheat bacon if using precooked) until crisp. Using a slotted spoon, remove to paper towels.
In a small bowl, beat the cream cheese and Yucatan Guacamole until smooth. Spread mixture over cooled crust.
Sprinkle with cheese, bacon, tomatoes and olives. Refrigerate until serving. Cut into squares.
Ingredients:
1 16 ounce container Yucatan Spicy Guacamole

2 tubes (eight ounces each) refrigerated crescent rolls

12 ounces sliced bacon, diced or 3.5 ounce package (about 15 slices) fully cooked bacon

4 ounces whipped cream cheese, softened

4 ounces feta cheese, crumbled

3 plum tomatoes, small diced

1 small can sliced ripe olives, drained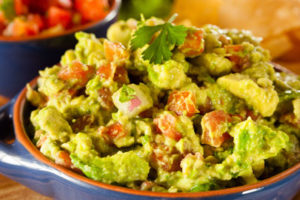 Guacamole with Corn and Fire-Roasted Tomatoes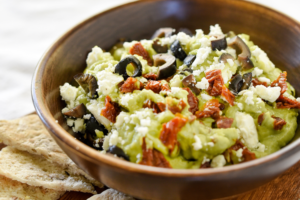 Mild Mediterranean Guacamole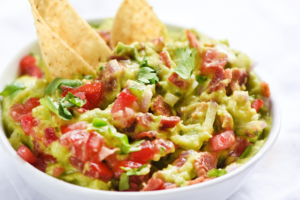 Kicked up Guacamole with Bacon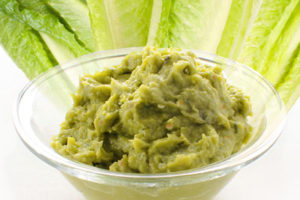 A creamy, flavorful, and versatile dip that's simple, easy to prepare, and sure to please. Made with Yucatan…