Print Recipe
Guacamole and Goat Cheese Flatbread
Ingredients:

1 8 oz tub of Natural Yucatan Guacamole

4 pieces of your favourite flatbread, cut into wedges

8 pieces of ripe cherrie tomatoes, cut in halves

2-4 Tablespoons of beet sprouts

2-4 ounces goat cheese, natural

Olive Oil

Salt and Pepper

Directions

Preheat oven to 350 degrees.
Spread guacamole over flatbread.
Drizzle with olive oil.
Crumble goat cheese on top.
Layer tomatoes, one half per wedge.
Season with salt and pepper.
Cook for 10 minutes or until desired crunchiness is reached.
Garnish with the beet sprouts and serve.
Ingredients:
1 8 oz tub of Natural Yucatan Guacamole

4 pieces of your favourite flatbread, cut into wedges

8 pieces of ripe cherrie tomatoes, cut in halves

2-4 Tablespoons of beet sprouts

2-4 ounces goat cheese, natural

Olive Oil

Salt and Pepper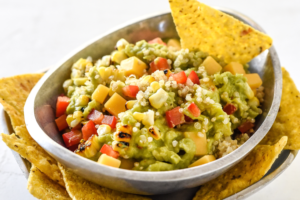 Quinoa Protein Packed Guacamole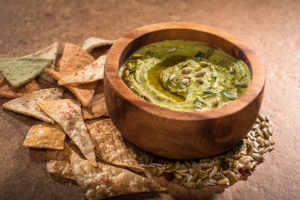 Avocado Hummus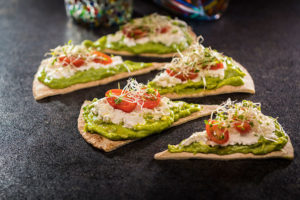 Guacamole and Goat Cheese Flatbread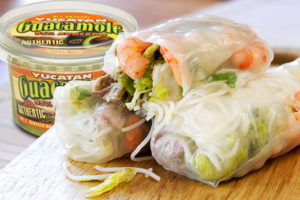 Far East meets Southwest with these delicious and nutritious spring rolls stuffed with delectable shrimp,…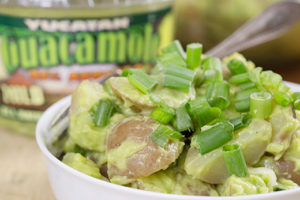 Perfect for picnics, parties, or as a side with an everyday lunch or dinner, this hearty potato salad will…