Cauliflower Rice Burrito Bowl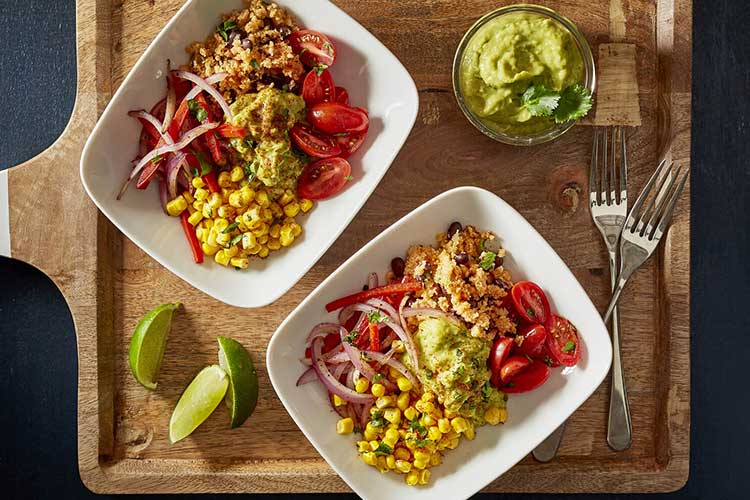 ingredients
Hide

View

Ingredients
2 Tbsp. extra virgin olive oil, divided
4 cups grated cauliflower (1 small head)
1 Tbsp. minced garlic
2/3 cup mild chunky salsa
1 (15-oz.) can low-sodium black beans, rinsed and drained
1 red bell pepper, cored and thinly sliced
1 medium red onion, thinly sliced
1 cup fresh or frozen corn kernels, thawed if frozen
1 1/4 cup Mild Yucatan Guacamole
1 cup cherry tomatoes, halved
1 Tbsp. taco seasoning, optional
1/4 cup finely chopped cilantro, optional
Mexican chile pepper hot sauce, optional
Lime wedges
Product Used: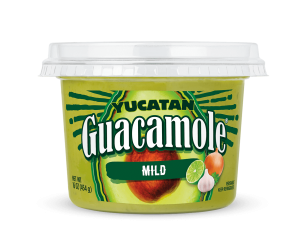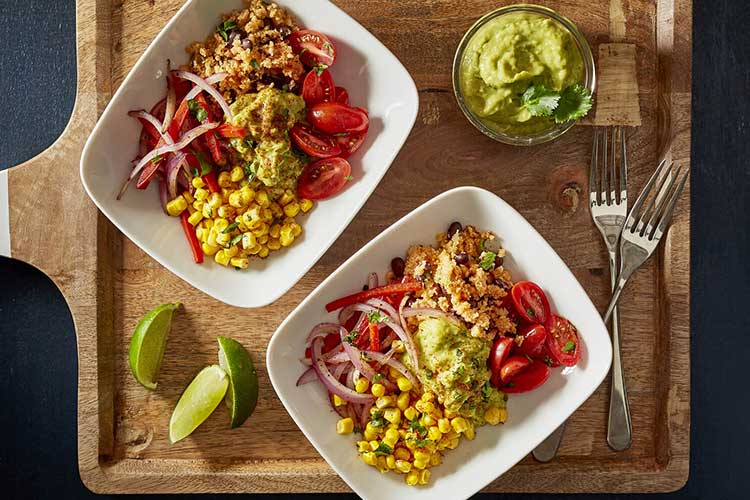 Directions
1.
Heat 1 Tbsp. oil in a skillet over medium-low heat. Add cauliflower and garlic. Cook 3 minutes or until cauliflower begins to soften, stirring occasionally. Stir in salsa and black beans; cook, covered, 10 minutes or until cauliflower is tender. Set aside and keep warm.
2.
Heat remaining 1 Tbsp. oil in a skillet over medium heat. Add bell pepper and onion. Cook for 5 minutes or until vegetables are just tender, stirring frequently. Place corn in a small microwave-safe bowl. Cook on high (100% power) in a microwave for 1 to 2 minutes or until heated through.
3.
Divide cauliflower mixture, bell pepper mixture, guacamole, corn and cherry tomatoes among four bowls. If desired, sprinkle with taco seasoning and top with cilantro. Serve with hot sauce, if desired, and lime wedges.
4.
Each serving contains: 395 calories, 19 g fat, 2 g saturated fat, 0 g trans fat, 0 mg cholesterol, 822 mg sodium, 51 g carbohydrates, 14 g fiber, 11 g sugar, 11 g protein. Daily values: 36% vitamin A, 110% vitamin C, 9% calcium, 20% iron
View More
View Less

VIEW MORE
are you
tempted?
Find The Guac