Avocado Bloody Maria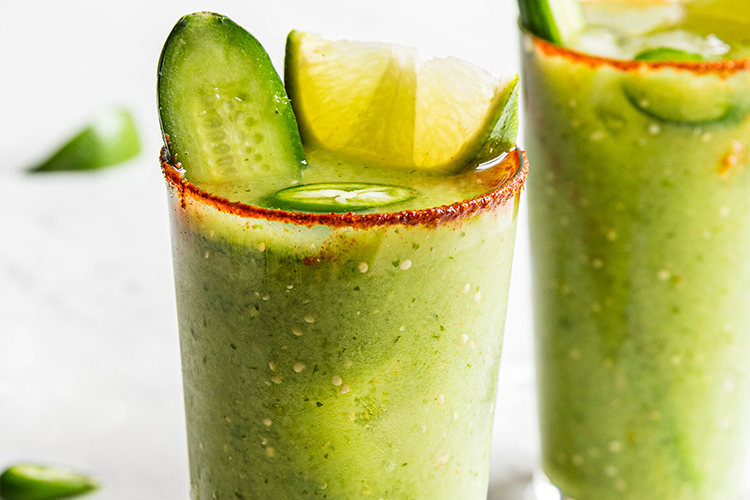 ingredients
Hide

View

Ingredients
FOR THE GREEN BLOODY MARIA:
• 3 tomatillos, cored and cut into 1-inch pieces
• 1/3 cup cucumber, diced
• 1 stalk celery, cut into 1-inch pieces
• 2 tablespoons jalapeño, roughly chopped
• 3 ounces tequila
• 2 tablespoons Yucatan Squeeze Authentic Guacamole
• 1 tablespoon fresh cilantro, roughly chopped
• 2 teaspoons Worcestershire
• 1 teaspoon prepared horseradish
• 1 teaspoon hot sauce
• 1/2 teaspoon salt
• 1/2 lime, juiced
• Black pepper, freshly ground, as needed
FOR THE SPICED RIM AND GARNISH:
• 1/2 teaspoon smoked paprika
• 1/4 teaspoon coriander
• 1/4 teaspoon cumin
• Jalapeño, cut into rings, for garnish
• Cucumber, cut into rings, for garnish
• Lime, cut into wedges, for garnish
Product Used: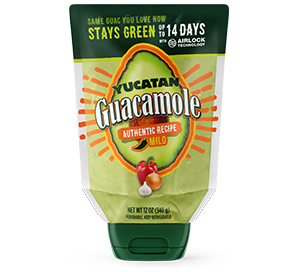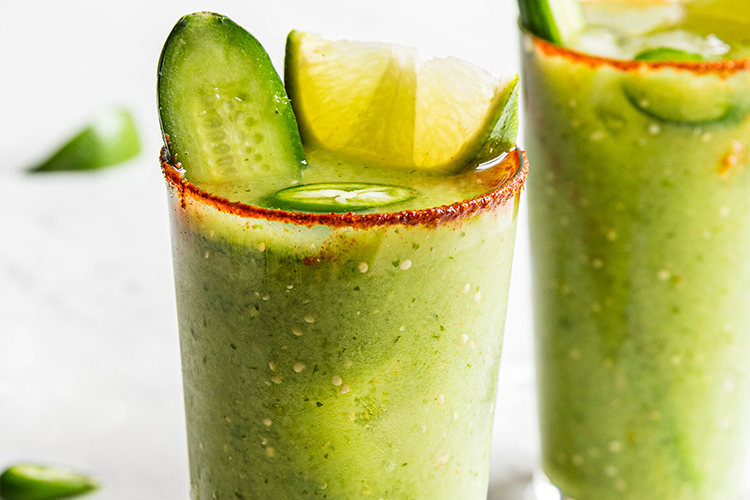 Directions
1.
Add all ingredients for the Green Bloody Maria into a blender. Blend on high until the texture is fairly smooth and no large pieces are left, about 30 seconds. Taste and adjust with salt and pepper, as needed.
2.
Fill a tall glass halfway with ice. Then, using a small mesh strainer, strain half of the liquid into the glass, discarding the solids and reserving the liquid. Add the remaining mixture from the blender into a second glass. Pour the liquid from the second glass into the first one, combining the two. Repeat this several times until the ice has slightly melted and the drinks are well integrated. Reserve.
3.
In a small bowl, add the paprika, coriander, and cumin together. Mix until spices are combined. Add the spices onto a small plate and reserve.
4.
Using two fresh glasses, wet the rim of the glasses lightly with a lime wedge. Then, invert the glasses and dip the rim into the reserved spice mixture, rolling it a bit to coat the lip of the glass fully.
5.
Turn the glasses over and fill it with ice. Add the combined Bloody Maria mixture to the new glasses. Garnish with cucumber, jalapeño, and lime slices.
View More
View Less

VIEW MORE
are you
tempted?
Find The Guac