Print Recipe
Shrimp and Guacamole Spring Rolls
Far East meets Southwest with these delicious and nutritious spring rolls stuffed with delectable shrimp, julienned cucumber and carrots, pea shoots, plus the tantalizing taste of Yucatan Guacamole. A fresh and flavorful way to get your party rolling.

Ingredients:

4 rice wrappers

1/2 pound large shrimp, precooked

2 carrots, julienned

1/2 English cucumber, julienned

1 package pea shoots

1 8 ounce container Authentic (or your favorite variety) Yucatan Guacamole

Directions

Slice the shrimp in half-lengthwise.
Soak 1 rice wrapper for about 15-20 seconds in water until wrapper starts to soften. Remove to a workable surface (letting as much water drain off as possible) such a as cutting board.
Spread half the rice wrapper with Yucatan Guacamole (about 2-3 tablespoons) and layer carrots, cucumber, and pea shoots on top. Roll up burrito style.
Repeat with remaining ingredients.
Refrigerate and cut the rolls crosswise into 1-2 inch pieces when ready to serve.
Ingredients:
4 rice wrappers

1/2 pound large shrimp, precooked

2 carrots, julienned

1/2 English cucumber, julienned

1 package pea shoots

1 8 ounce container Authentic (or your favorite variety) Yucatan Guacamole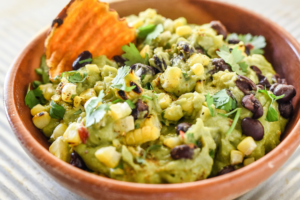 Roasted Corn Southwest Guacamole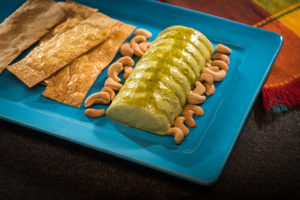 Guacamole Mousse with Cilantro Dressing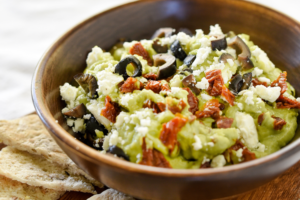 Mild Mediterranean Guacamole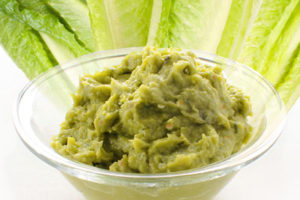 A creamy, flavorful, and versatile dip that's simple, easy to prepare, and sure to please. Made with Yucatan…