Print Recipe
Red Potato Salad with Guacamole
Perfect for picnics, parties, or as a side with an everyday lunch or dinner, this hearty potato salad will likely become one of your favorites, too. Featuring red potatoes, savory bacon, and Yucatan Guacamole, seasoned with salt, pepper, and white wine vinegar, it's delicious served warm or cold.

Ingredients:

3-4 tablespoons Yucatan Authentic Guacamole

2 pounds red potatoes, scrubbed, cut into fourths (want the potatoes bite size)

3 cloves garlic, halved

Sea salt

Freshly ground pepper

6 scallions, thinly sliced

1 small cucumber, diced

4 red radishes, halved and thinly sliced

1/2 cup fresh corn kernels (optional)

1 tablespoon white-wine vinegar

Directions

Preheat oven to 375 degrees.
Put potatoes in a medium pot and cover with about 6 cups of water.
Add the garlic and 1 tablespoon of salt. Bring to a boil over high, reduce heat and simmer until potatoes are tender but not mushy, about 10 to 15 minutes. Remove from heat, drain and let potatoes cool slightly.
Place the bacon on a rimmed baking tray and cook until crisp about 20 minutes. Remove to a plate lined with paper towels to absorb some of the grease and then cut crosswise into 1/4- inch pieces.
Combine potatoes, bacon, scallions, and cucumber, add the guacamole and white-wine vinegar. Stir to combine, adding more guacamole for desired consistency.
Season with pepper and salt, taste and adjust for seasoning, adding more salt, pepper or vinegar for desired taste.
Serve warm, cold, or at room temperature.
Ingredients:
3-4 tablespoons Yucatan Authentic Guacamole

2 pounds red potatoes, scrubbed, cut into fourths (want the potatoes bite size)

3 cloves garlic, halved

Sea salt

Freshly ground pepper

6 scallions, thinly sliced

1 small cucumber, diced

4 red radishes, halved and thinly sliced

1/2 cup fresh corn kernels (optional)

1 tablespoon white-wine vinegar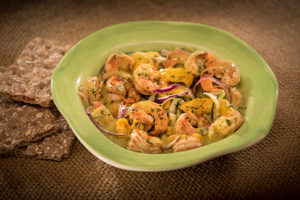 Shrimp Guacachile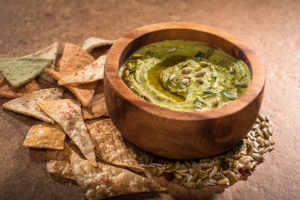 Avocado Hummus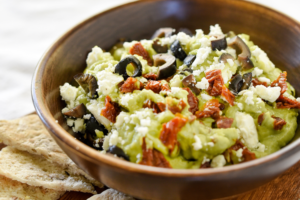 Mild Mediterranean Guacamole