Some Light Reading
while you dip…
At Yucatan, Guacamole Is Made With Love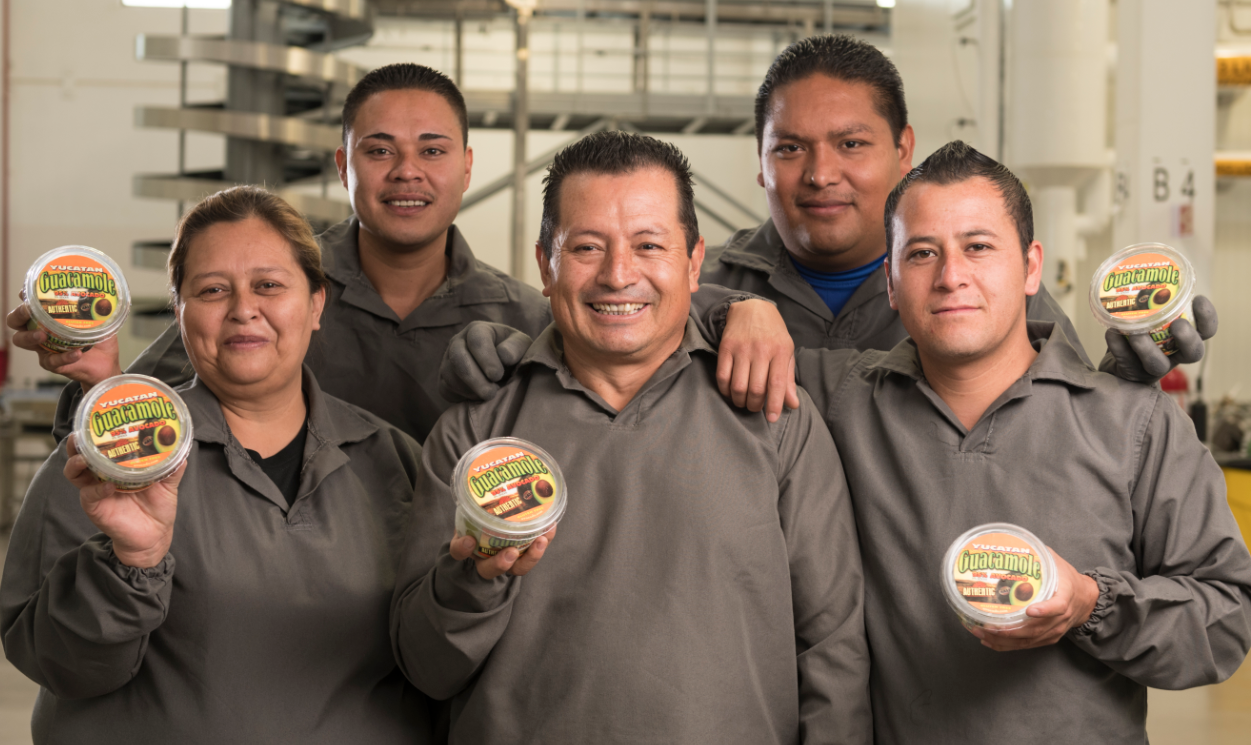 At Yucatan, we believe that all food should be fresh, expertly prepared, and it should taste great. These things don't happen by accident, and they also don't happen without our secret ingredient.
How do we make the best guacamole around? Is it the Haas avocados grown fresh in Mexico? Is it that each, and every container of Yucatan Guacamole is carefully scooped by hand? Or perhaps it's our brand new state-of-the-art facility?
While these things are brought together to make a better guacamole, there's one secret ingredient that can't be ignored. The secret to a better tasting guacamole is, without a doubt, love.
Care You Can Taste
We didn't just start adding love to our guacamole, however. In fact, we've been using this secret ingredient for over 25 years.
It isn't just our love for good guacamole, however. Our products receive high amounts of devotion at every step of the way. It's what has allowed us to continue making your favorite dip, and it's what is going to allow us to continue making new flavors.
Guacamole: A Love Story
Since we began years ago, we sought out true avocado farmers who love their crops. This search brought us to Michoacán, one of the most fertile areas for farming in all of Mexico. Together, we wait until the perfect time to harvest every 100% pure Haas avocado. In the fall to early spring, avocados develop their peak flavor, as well as the perfect balance of natural oils.
Once the best avocados in the world are ripe, they are carefully handpicked and rinsed before being transported to our production facility. There, we are hard at work producing the purest guacamole possible, made from over 95% fresh avocado.
We make loving what we do look simple. Unfortunately, not everyone thinks the same way that we do. Rather than adding love and better ingredients, other guacamole makers take shortcuts.
The Yucatan Difference
You can tell our pure guacamole is the real deal, especially when you put it up against anyone else's. Other companies use lower quality avocados when true guacamole aficionados know that Haas avocados are the best.
Using better ingredients and treating it with the respect it deserves doesn't mean that we skimp out on what you get to enjoy, either. At Yucatan, we want everyone to spread the love anywhere, anytime. That is why you can find out delicious dips in several different sizes and flavors.
Whether you're packing a single-serve, two-ounce container into a lunchbox or decide to crack open a 16-ounce container for Taco Tuesday, you can enjoy guacamole any way that you want. Because avocados are naturally low in sodium and high in natural fatty acids, it's a guilt-free way to eat healthy.
Whatever type of guacamole you prefer, you can find the highest quality spread anywhere groceries are sold. Whether you are looking for bold flavors like our new Restaurant Style or Spicy, to traditional Authentic or Mild flavors, we have them all.
They say true love is eternal. We agree! As long as you continue to love what we make, we'll keep bringing better ingredients to your table.